WE ARE BUILDING A WORLD CLASS
INNOVATION

ECOSYSTEM
FOR INDIA TO NURTURE INNOVATIVE POTENTIAL
The idea is to establish a professional society for young explorers that can provide easy and
in-depth access to the trends and innovations in STEM at the right time.
Science, Technology, Engineering and Maths (STEM) are crucial for keeping the world functioning. Here we provide and promote the highest standards of educational and professional excellence to enhance the growth of the STEM sector in our country and strengthen the STEM workforce for a future nearby. We serve as a source for addressing the needs and challenges of STEM education and become a complete resource for students, institutions and organizations.
India STEM Mission, an initiative of All India Council for Robotics & Automation (AICRA) is driving the ISM objective based on three pillars: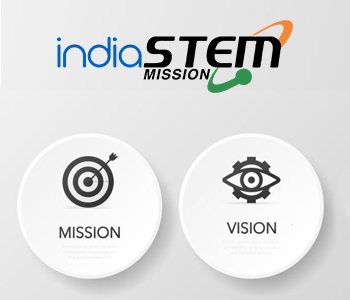 ISM Vision
To achieve STEM education milestone by providing support system to diverse community of STEM learners and suppliers by a unique partnership of government, industry and academia. Building a world class STEM ecosystem to engage and encourage every potential individual across India.
ISM Mission
The ISM mission is to meet the educational and professional development needs of a diverse community of STEM learners with cutting edge and engaging experiences in flexible learning spaces. The mission is to be achieved by:
Setting up 2000 STEM based lab in 1st phase of the project by end of FI 2022
Progressive development of world class STEM projects for learners
Engaging historically underrepresented groups in STEM through progressive programming
Engaging 5 million youngsters and diverse community of STEM learners in various STEM activities in two years of span